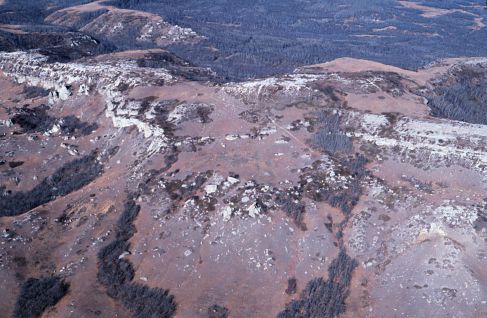 The Killdeer Mountains
Living History And Sacredness
By Aaron Barth, The Edge of The Village
KILLDEER, N.D. - The Killdeer Mountains in Dunn County, western North Dakota have been getting a lot of attention lately, especially after theNorth Dakota Industrial Commission decided to, well, industrialize the area, and allow the Hess Corporation to follow through with signed leases and drill and frack for oil there. The Grand Forks Herald reported on it here, and The Bismarck Tribune here. The Industrial Commission is composed of three individuals, including Jack Dalrymple, Wayne Stenehjem, and Doug Goehring. They have scheduled meetings with the Department of Mineral Resources and Lynn Helms, the sitting Director. It is important to remember that this was a public hearing, and at public hearings the public ought not to be shy about attending. This experiment America has going, our Democratic-Republic, necessitates these local meetings that have global implications.

On January 24, 2013, at 1:00pm (CST) the public hearing for the Killdeer Mountains was held in the capitol of Bismarck, North Dakota. It was Industrial Commission Case Number 18618 concerning sections 25 & 36, T. 146 N., R. 97 W, this about 30-35 miles north of Dickinson, North Dakota. Originally the hearing was scheduled in the Governor's meeting room, a rather closed-off and secluded place. Because of the public turn-out, though, the hearing was relocated to the larger Brynhild Haugland room in the western wing of the capitol. I drove over from Fargo to Bismarck to attend the meeting, and while there scribbled down some notes and took some audio-video as well. The high-points, I thought, were in capturing two Native voices from two disparate cultures.

The first is a video from Theodora Birdbear of Mandaree, North Dakota (Mandaree is Mandan, Hidatsa and Arikara territory). The microphone on my Canon PowerShot SX260 HS captured the audio a bit, and just in case there are those of us hard-of-hearing, I provided transcript of Theodora's testimony below.

Theodora Bird Bear explains the spiritual significance of Killdeer Mountains.

Transcript:
…and he expressed the impact of oil and gas development, the industrialization of an area, which impacts the quality of that spiritual experience. I guess it's kind of equivalent to having an oil well right beside your Catholic church or something. It's parallel to that. So I wanted the commission to know that Fort Berthold does have a living connection to that area, and to consider that in your decision making. As people have said prior to this, technology is evolving, and to keep it [oil] in the ground is not wasting it. They are going to be after it in the future. What's the rush? The rush is quick decisions, unplanned decisions, and unplanned impacts. So I just wanted to make a comment about our relationship with that area. It is still living today.

Theodora remarks on how the Killdeer Mountains are a sanctuary, as sacred and sacrosanct as a Catholic Church, and to carry the analogy further, as a Lutheran or protestant church, a Synagogue, a Mosque, a Buddhist monastery, a Hindu temple, a Confucian temple, and so on. These spaces are sacrosanct in the sense that when an individual goes to the area to pray, they are really interested in having it as quiet. A library could also be considered a sacred space by this definition (libraries carry on that monastic-academic tradition of the deliberate contemplation of texts — this is arguably the antithesis of our hyper-industrial, full-throttle, 21st century world).

The hearing about opening up Killdeer Mountain for oil drilling was open to the general public. The Industrial Commission graciously opened the hearing to listen to concerns from the general public.

I explained that the Killdeer conflict was far larger than the delineated core, the designated North Dakota State Historical Site and involved a running battle from Killdeer Mountain west to the Little Missouri River.

There is estimated to be about 3 to 3.5 million barrels of oil under Killdeer Mountain, worth about $250 million. By not developing and extracting that mineral and oil deposit it is defined by the state of North Dakota as waste.

You, reader, can read about the Industrial Commission's decision to allow Hess Oil to drill within three miles of Medicine Hole and the Killdeer conflict site, at the Bismarck Tribune.