Add White Hat's wonderful book to your library.
Life's Journey - Zuya, A Review
Oral Teachings Contained Within Book
By Dakota Wind


BISMARCK , N.D. - Instruction in Lakota oral tradition began at home with food, an exchange of pleasantries and conversation, and an offering of tobacco. Albert White Hat Sr. wistfully recalls the days when the elders of his youth remembered the days before the reservation and shared the unbroken cycle of stories.



White Hat carefully, yet concisely, renders a summary of the swift changes, both good and bad, which have deeply impacted how the Lakota people interact with one another and the land, their philosophy, and how they pray and speak.

Life's Journey is part history, part language instruction, part biography, and through it all is the strong first-person narrative of story and tradition carefully crafted and preserved through the editing efforts of John Cunningham. Cunningham took White Hat's recorded lectures with the idea to transcribe them for the original draft of what became Life's Journey, and delicately retains the character and voice of the Lakota speaker for the English reader.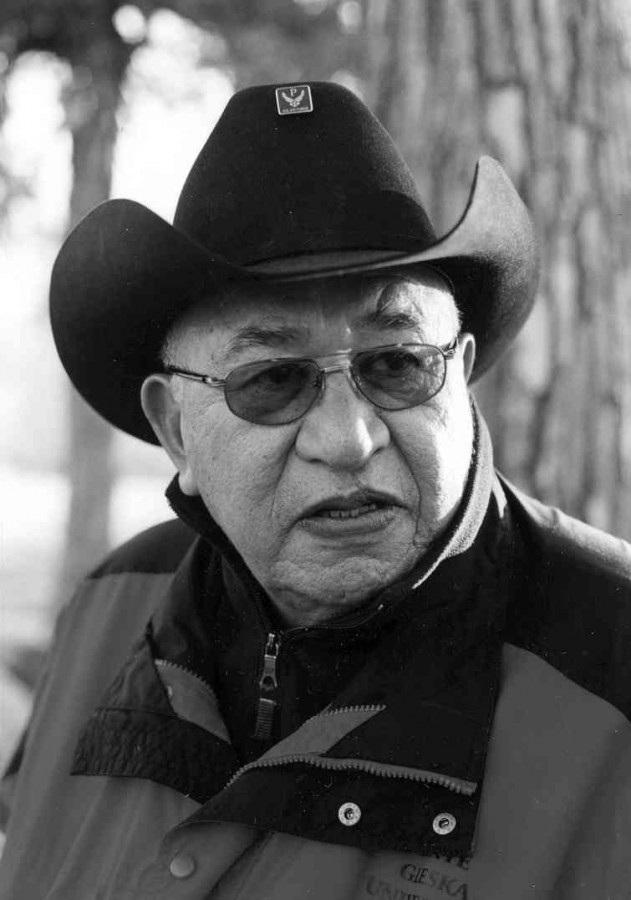 A great black and white photo of White Hat.




Throughout Life's Journey readers will encounter White Hat's attribution to the elders and medicine practitioners with the words "they say" or "they always say." This is a cultural practice, a way of respect White Hat demonstrates for those whom he heard a story. In other parts of White Hat's narrative, he uses "them" or "they." It is these times in which White Hat is referring to relatives who have taken their journey.

White Hat's stories are repeated or referenced to throughout the different chapters. In the Lakota tradition, if something is very important it is worth sharing and hearing several times again. According to White Hat, there are connections that are not apparent in the first telling.
Natan Tokahe, The First One To Charge, is White Hat's traditional name. White Hat grew up on the Rosebud Sioux Indian Reservation, but the people call themselves Sicangu, Burnt Thighs. He beautifully articulates in the first chapter who he is and where he comes from in the Lakota tradition. As part of sharing who he is and the people he belongs to, White Hat touches on the story that the Sicangu originated as the Sicangu near present-day Bismarck, ND.

Nine years of visits, listenings, and edits went into creating White Hat's Life's Journey. Each chapter, including the appendices, has a Lakota heading and translation. Each story includes Lakota words and clear translations in the cultural context.

Order yourself a copy of White Hat's book from "Prairie Edge" in Rapid City, SD. (or where ever man). This is one of my favorite spots to stop for beads and stuff.

The only criticism of this work is that so much effort has gone into preserving the "flavor" and cultural nuances of the Lakota language, that one wonders if the work should have been published bilingual, page for page, in Lakota and in English. The very subtitle of Life's Journey, "Zuya" literally translates as "To Go Out," but carries with the Lakota context of going out with a war party. A Lakota reader may look at the title and step away with the impression that life's journey is comparable with making war, but that may have been White Hat's intention all along.

For the Lakota reader whose first language is English, Life's Journey's strength is the fact that it is in English and retains the cultural context, and includes translations. Edify yourself and go get yourself copy today!